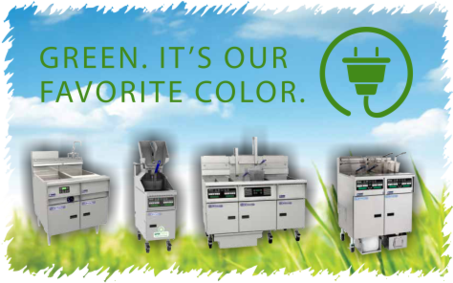 Why Buy a Pitco Fryer or Pasta Cooker:
Laser Blanking Machines:
All critical sheet metal parts are laser cut for ultra tight tolerances and part uniformity. This dedication to quality provides enhanced part and assembly quality by using the latest technology available, regardless of cost.
Robotic Welding:
Pitco fryer tanks are robotically welded for unsurpassed consistency and accuracy in the welding processes. Combined with laser-blanked parts, Pitco uses state-of-the-art manufacturing and assembly processes to deliver you world-class quality.
Reliable Tank:
Pitco fry tanks aren't ground. They're pressure blasted to provide a smoother surface for ease of cleaning, higher tolerances at pressure points, and no welding scorch marks.
Pitco Fryers:
By their very design, Pitco's Frialators offer substantial advances over bottom-fired fryers. Pitco tube-fired heating system creates a larger heat transfer area that quickly heats oil to proper cooking temperatures. Since there's less waiting for oil to heat, your food is less likely to absorb shortening and more likely to maintain flavor.
Further, since the tubes transfer heat throughout the fryer, you don't have to worry about scorching your oils. Your oil lasts longer without adding carbon flavor to your product. To further minimize this carbonization, Pitco Fryers give you a larger "cool zone" to capture the natural fall-off that occurs during frying. This, too, helps you avoid costly and distasteful shortening breakdown.
Performance, Efficiency, Easy to Own
Pitco has up to 30% more heat transfer area compared to Brand "X".
By heating oil from the bottom up, Brand 'X' has a smaller, less dispersed heat transfer area.
Pitco's cool zone is larger; the tube fired design creates a substantially larger cool zone for trapping particles thus prolonging oil life and reducing taste transfer.
Bottom-fired fryer with a cool zone limited in size by the shape of the tank design and burner placement continuous bottom firing causes heat to conduct to tank bottom thus causing loss of cool zone.
Reduced Cleaning – Pitco's larger cool zone reduces the area needed for cleaning. There is less need to clean the tank and tube sides because they are not heated and particles are much less likely to adhere and carbonize.
Take one look and you'll see Pitco Fryers are designed for convenience as well as efficiency. They are easy to use, to clean, to adjust, and to maintain.
Pitco was the first to incorporate "cool zones" to minimize taste transfer and maximize shortening life. We were the first to offer built-in filtering and under cabinet, space saving filters.
The innovation continues today. Pitco Frialator now offers the SolsticeTM Series — a selection of fryers that operate cooler and smarter for maximum efficiency.
From efficiency of our tube-fired design to the shortening extension capabilities of our "cool zones," from our commitment to customer satisfaction to our record of reliability, Pitco has proven, again and again, to be the leader in the fryer industry.