AIR CONDITIONING TUNE-UP SERVICES
Call
702-645-3000
today and we will send one of our certified technicians out to your Las Vegas/Henderson home or business today.Understanding your heating and air conditioning system comes along way when our valley homeowners and businesses are deciding what type of preventative heating and air conditioning tune up service plan.
Making sure your heating and air conditioning unit is checked and serviced often will save you money on middle of the night break downs and after hour fees. Royal Refrigeration offers a total system check that will save you time and money.
Ready to Schedule Your Tune-up?
The Heating and Air Conditioning Tune-Up Special is loaded with many services. Here is a list of the preventive measures that Royal Refrigeration provides:
Inspect and Replace Filter (As Needed, Customer Supplied)
Check Thermostat Operation
Check System Inlet and Outlet Temperatures
Inspect Electrical Disconnect Box
Inspect Wiring and Tighten Electrical Connections
Inspect Contacts and Relays
Inspect Electrical Safety Controls
Inspect Motors for Dirt Buildup or Oil Leaks
Inspect Motor Bearings and Lubricate (As Needed)
Inspect Fan Belt and Adjust Tension (As Needed)
Check Electrical Levels to Motors
Inspect Condensate Line Drains and Clean (As Needed)
Inspect Outdoor Coil
Inspect Duct Seals at Unit and Secure Panels
Document and Explain Any Necessary or Recommended Repairs
Run and Test System
September through May Maintenance Tune-Up Special
$69.95 Per System **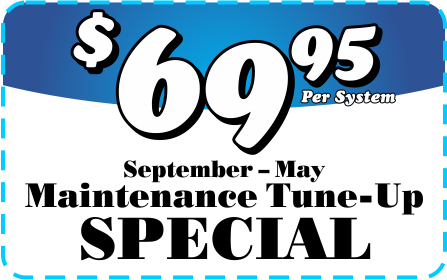 **Both SRP and APS recommend that you have your heating and cooling system inspected at least twice a year. The best times to conduct an inspection are spring and fall. Having these inspections performed has shown to reduce energy costs putting more money in your pocket, also reducing the risk of needing an
air conditioning system repair
.